Do the world really need another shirt?
Being famous for tearing my shirt off as often as possible on my YouTube videos, it might be surprising that I chose to include a shirt in my collection.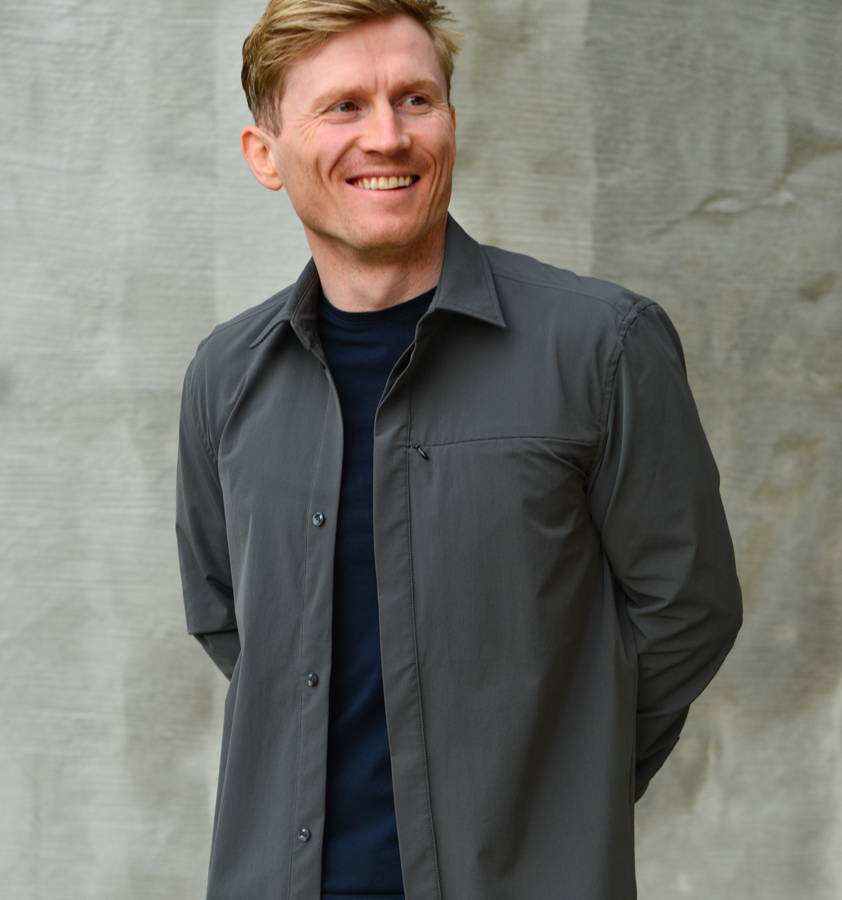 Given that I don't walk around shirtless most of the time, I wanted to make something that came close to the feeling of wearing nothing. My dream shirt would be something like this:
I can use it for outdoor climbing.

It should function as a light jacket, for days when a t-shirt is not enough, and a regular jacket is too much.

Should, at least in theory, replace most of my lightweight running/ cycling jackets

Have a Scandinavian minimalist look
A typical use for me would be biking back and forth to the climbing gym with scattered rain or going straight from outdoor bouldering to dinner with friends.
Using what I learned as a climber
I try to apply my general rules of to development of clothing. I have two simple rules:
there are no shortcuts to any place worth going. I take this very literally - if it doesn't hurt, it will not make you stronger.

The second tenant might be less obvious: Don't think too much about reaching the top. Stay focused on the next move. Some climbers spend too much time thinking about ambitious goals instead of staying focused on the actual task ahead. As a professional climber, I always took pride in working hard, not relying on talent or luck to get where I wanted.
I will not bother you too much with the tedious details of garment construction and fabric development. But I will tell you this much: It became apparent why my dream shirt was not something I found with a simple google search. The combination of stretchy, light materials and a classic shirt design is tough to manufacture with high enough quality. On top of that, finding a fabric that met my technical and aesthetically requirements was as challenging as climbing an 8b+ boulder while having an argument with my girlfriend on the phone..
As all of our products we make, we did a lot of real-life testing. One feature that I appreciated was the water- and dirt repellent treatment. I usually don't spill coffee, but when my arms are filled with lactic acid, it happens. It just rolls off the fabric. Another feature that really impressed me is how little care it needed. No washing, no ironing, no nothing really. And it doesn't smell like used sportswear at all.
Every garment in my collection is designed to let you move freely - on and off the wall. Why do I think that is important? Because it hopefully will help you dream less about that far away peak and instead climb a tree in your garden. Don't bother about running an ultra-marathon - ride a bike to school or work and call it a day.
The final result is a shirt I proudly recommend to anyone looking for a true overshirt, always ready to make your next move.